John and Brio, July 2008. Photo by Laura Behning.
Welcome to Gab Creek Farm!
Home of PKR Primavera Brio and Gab Creek Golden Vaquero
Foundation Morgan Horses
Gab Creek Farm is a breeding farm dedicated to the conservation of old blood Morgan Horses. Whether referred to as "Foundation" or "Traditional", these are horses of original Morgan phenotype that have not been out-crossed to other blood since 1930 when the Morgan Horse Registry was closed. It is difficult to convey the respect I have for who and what these creatures are with just words. But I will offer a few.

First, it is all about the blood. Morgan Blood carries with it inherent Morgan type, conformation, and the ability to perform. Old Morgan blood is unmistakable. It is not uncommon to hear someone remark after watching a Morgan cover ground, "That's the biggest 14-hand horse I have ever seen."

And are they ever put together! They are baroque with those round body contours and the neck set on top of the shoulder just like Leonardo da Vinci's sketch of the horse. The Morgan is coupled in appearance, and his short back, laid back shoulder ("the wings of the horse") and long hip endow him with a marked advantage for service in harness or under saddle.

But it is his temperament that sets him apart! If I could only put you on him now to let you sense his superb nervous system, see his ability to instantaneously react, and feel his animation. Yet, he tempers this fire with grace, docility and amicability, and a true representative of the breed that was so favored in battle can be as easily handled by a petite lady as by one of J.E.B. Stuart's cavalrymen.

Today, this extraordinary blooded creature is listed on the Livestock Conservancy's Conservation Priority List as "Critical"; as there are fewer than 200 annual registrations and the global population is estimated at less than 2,000.

In addition to being old blood, the horses at Gab Creek are line-bred carrying the best blood of the Old Government, Brunk, Sellman and A.H. Phillips. Care is taken to balance size, bone and substance with refinement, and to follow the "cattleman's approach" to consistency of conformation.

It is always a privilege to show guests the results of twenty years of breeding effort.


Gab Creek Farm News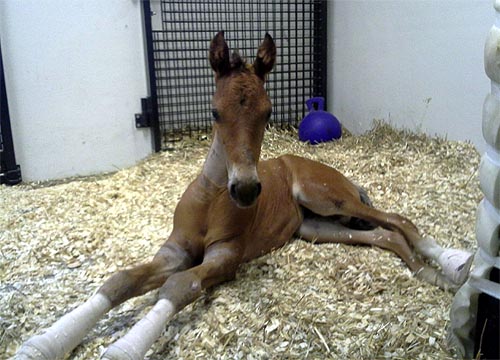 July 11, 2015- For those who saw pictures on Facebook of a very pregnant Morgan mare named Nancy, who was due on 17 June, she did in fact deliver but a bit early on 8 June at 2:30 a.m. It was a difficult birth as the foal had both front legs "contracted" like a closed pocket knife. It was inutero not congenital. It was a miracle she delivered and there was nothing I could do to help her. The foal had a suck reflex but I could only extend the legs to a 45 degree angle, so there was no way he could stand and nurse. "Will James" has been at UGA Teaching hospital ever since. A fund has been set up to help with his expenses. Click below to help. Any amount is appreciated.

August 3, 2015- After 7 weeks in Intensive Care at the University of Georgia's Large Animal Vet Clinic, Will James spent his first night at Gab Creek Farm last night. Hutch has his hands full with continued care, but the prognosis is positive.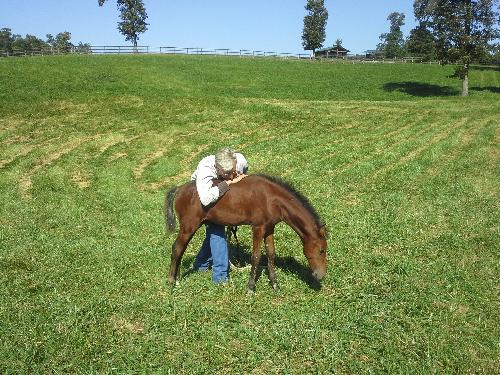 September 19, 2015- Will James is in the pasture. His survival is a miracle. Especially when you consider that in the annals of veterinary medicine, to the best of our collective knowledge, he is the only known completely contracted, at birth, foal to survive.

It took five days of drugs and traction to get the legs straightened out....then we had the really nasty pressure sores to deal with (for three months after)....and at the same time, septicemia......then seizures.... then colic. I expected him to die for three weeks while he was on IV antibiotics and fed thru a nasogastric tube.... but he didn't die and then it was all rehab....teaching him to stand and nurse....to drink from a pail...to walk assisted….to walk unassisted...at least a dozen different braces and cast set ups ...hundreds of sessions of leg wrapping at UGA and on the farm. The 4th year vet students named him Forest (aka Forest Gump and the scene where he runs out of the braces). He was 3 months old on Sept 8th and is now going unsupported to the pasture. I did not believe I would ever live to see this. His knees are good....right front hoof is turned out a bit below the fetlock but he seldom knuckles over on that one. Left foot is correct but he knuckles over now and then on it. Yet, he can trot and lope and cavort and play and land very sure footed. I have seen him run for 300 yds.

Many thanks to Dr. Ken Marcella for his moral support and encouragement. He says "tendon laxity is uncharted waters." I can't help but believe that as he grows and muscle forms on his legs....which is happening.....that his brain will develop "muscle memory" to land that foot where it belongs ....ALL THE TIME !
© 2003-2015 Gab Creek Farm, LLC. All contents of site is property of Gab Creek Farm, LLC unless otherwise indicated.